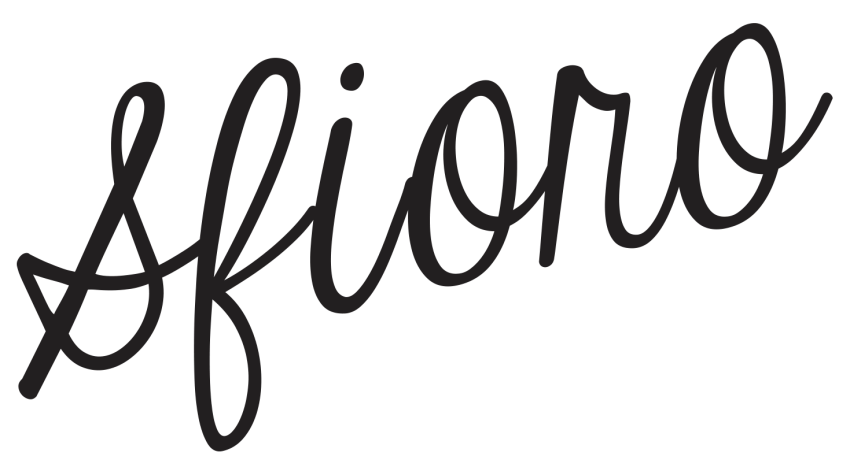 The flexible stone grate for your swimming pool
Elegant and performant
Water and stone have always shaped each other in nature, creating fascinating shapes that can amaze. Inspired by this concept, we have designed Sfioro, a modular system of natural stone grate.
The system is customizable and usable for natural stone, granite in any shape and finishing. Sfioro was thought to reduce the costs of producing special elements and to solve the problem of creating different shapes of swimming pools.
Customizable in shape, size, material and finishing.
Sfioro is the evolution of natural stone pool edges.
Why choose a flexible stone grate ?
The different combinations of materials and finishes give to the pool an elegant and refined touch.
A less impactful and more performing natural alternative to plastic grates.
The advantages:

- Easy and quick installation. No labor experienced assistance required
- Modular elements easily removeable for cleaning and inspection
- Natural stone and granite ensure hygiene and resistance to atmospheric agents and chlorine
- Naturally non-slip and anti-aging material
- Excellent load bearing and mechanical resistance to shock and stress
- Each element is designed to allow the proper drain and outflow of chlorinated water to prevent stagnation which could cause mold and mildew
- Does not require site measurements with templates, therefore reducing the processing cost

- Adaptable to any type of edge layout, reduced cost of curved elements with savings of up to 50%
The system is made up of about 1 m. long sections, completely independent from each other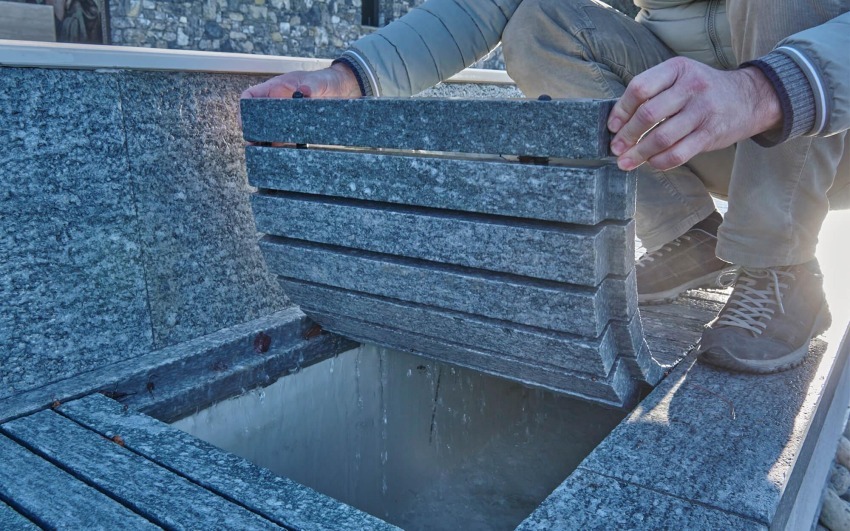 An innovative technology
that has been patented

Certify to guarantee
Innovation means finding new solutions and guaranteeing results.
Alongside the patent, these are our certifications
• Slip resistance: slip class R 12 (excellent) ramp method with shod feet
• Slip resistance: slip class C (excellent) ramp method with wet areas crossed with bare feet
• Resistance to chlorine: in a concentration equal to 1.8 mg/l that is the maximum concentration allowed for swimming pools, with a visual test method: no sign was found.
• Microbiological control: good and discrete measured parameters, between 1 and 6 UFC/24cm2 at 36 ° and between 32 and 40 UFC/24cm2 at 22 ° analytical method M 186.
• Flexural strength: with UNI EN 12372 method: Breaking 208.86 kg / cm2 - 5500 N.
All tests were performed on samples of Luserna stone.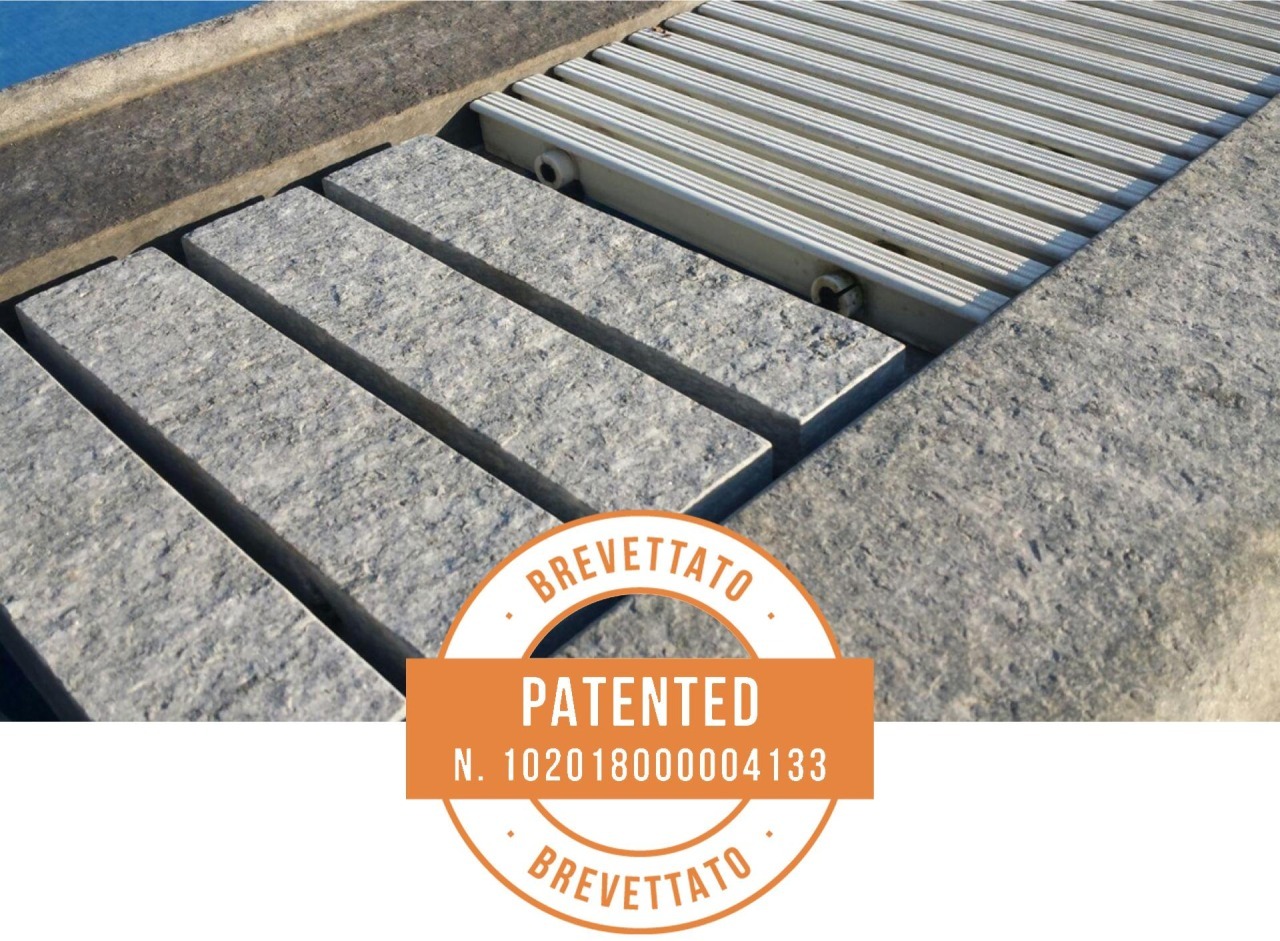 Sfioro CarGo
The Sfioro system becomes pedestrian and driveable
For public spaces
From the same technology of Sfioro comes Sfioro CarGo , designed to drain and remove rainwater from squares, car parks, garages, courtyards, gardens and large squares.
Thanks to the natural characteristics of the stone that allow resistance to loads, chemical and atmospheric agents, longevity and formal elegance, the Sfioro Cargo modular grates are very interesting for new realisations or replacements of ruined and obsolete grates and drains.

The modules of Sfioro CarGo are easily removable for inspection and cleaning, adaptable to any type of pre-existing drainage channels or supports.
The CarGo module is made with components thicker compared to Sfioro
Discover our achievements with the "Sfioro CarGo"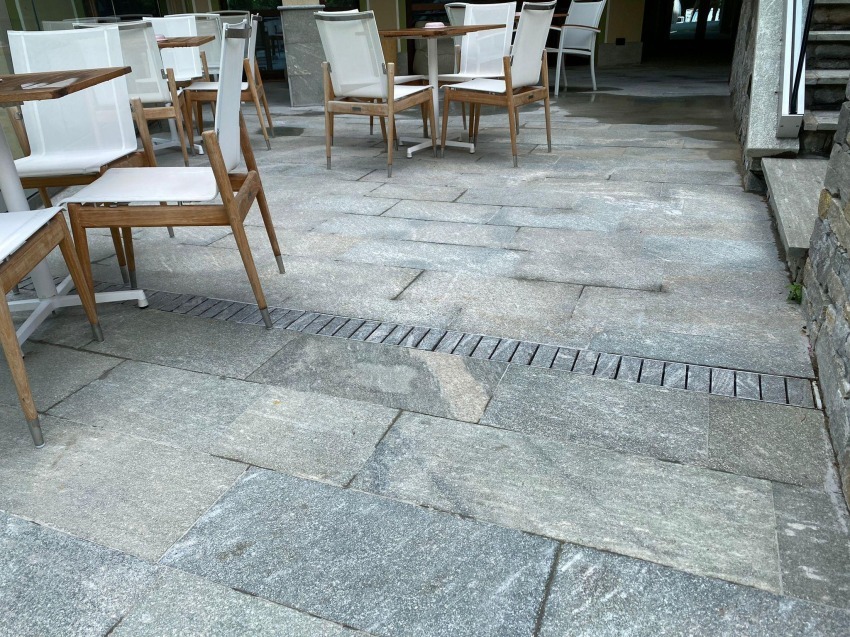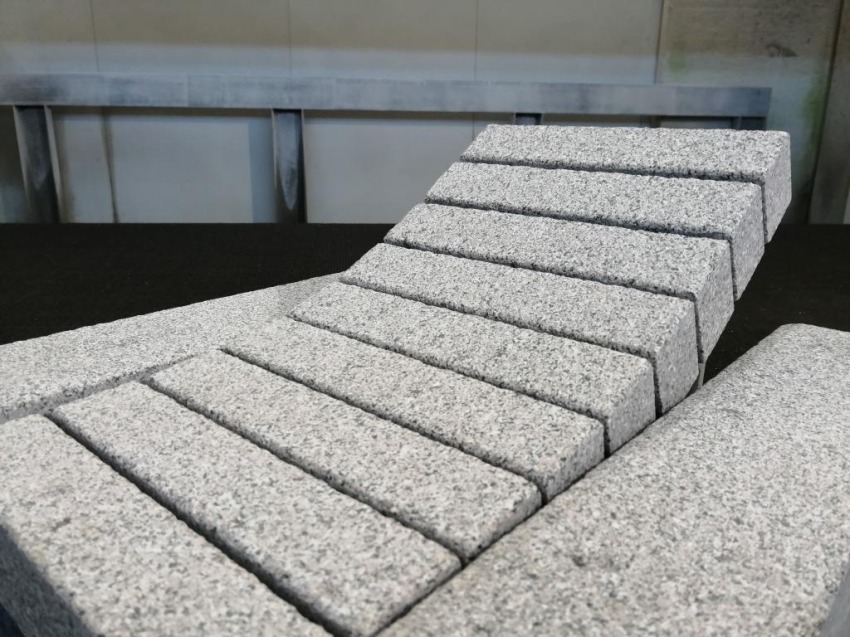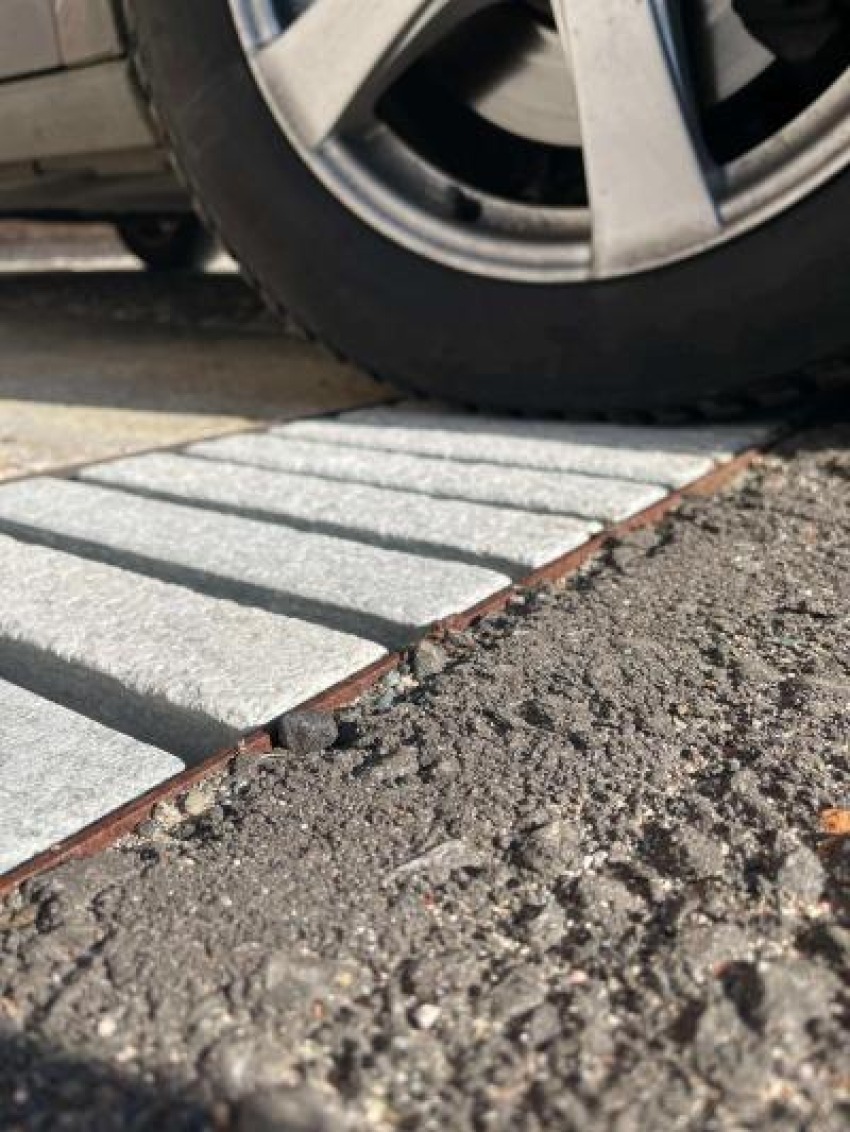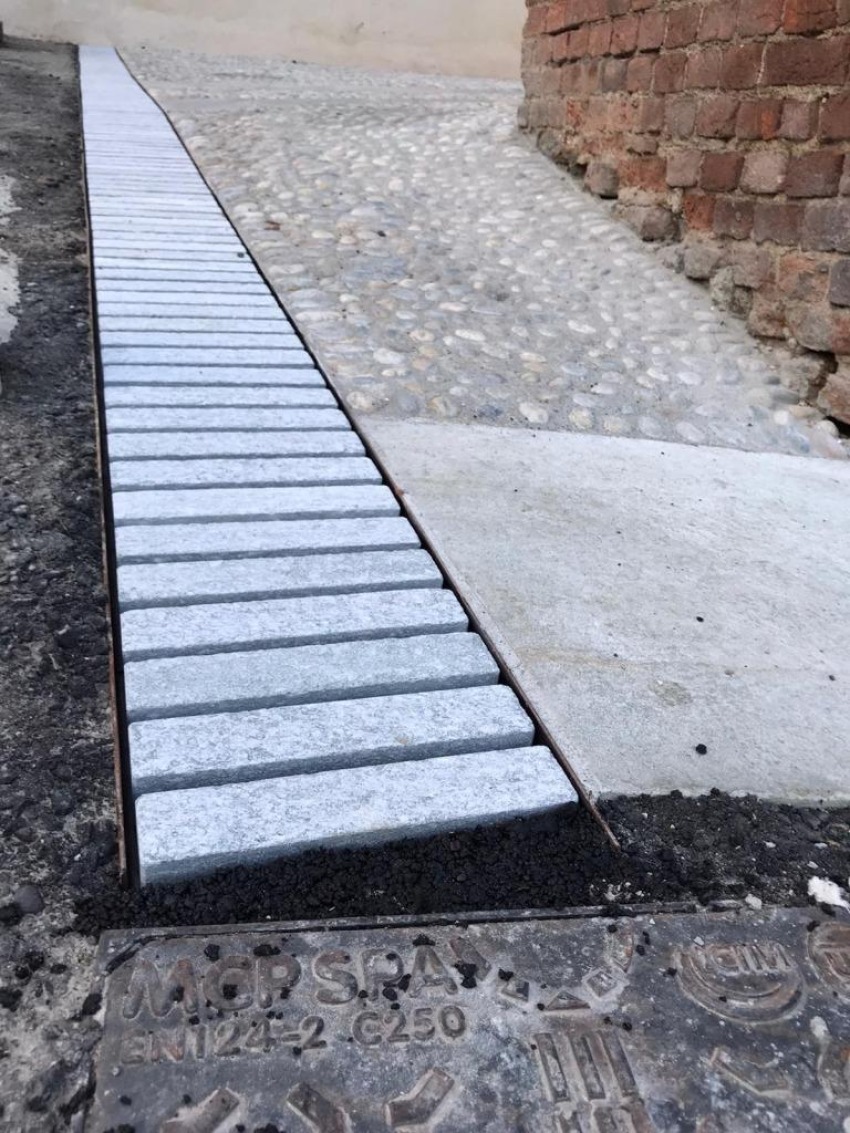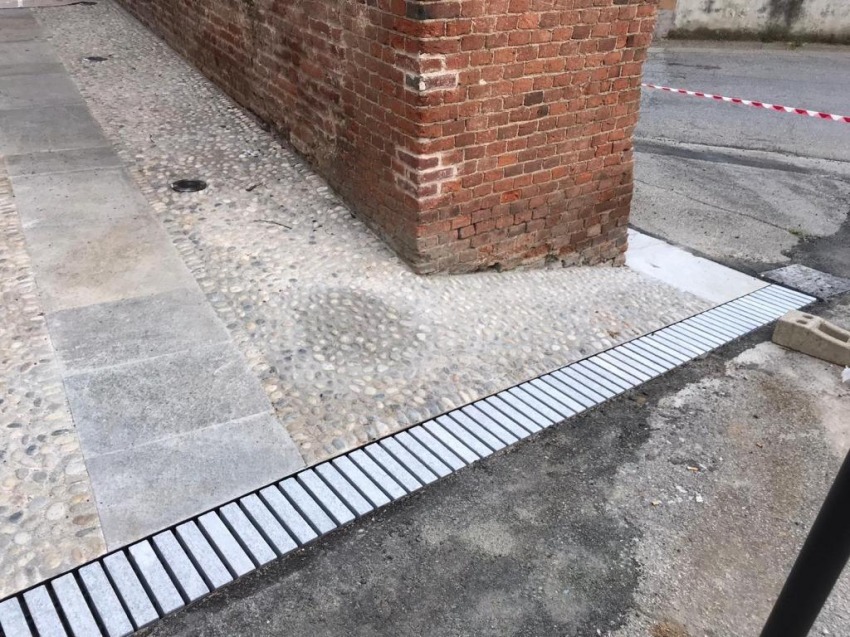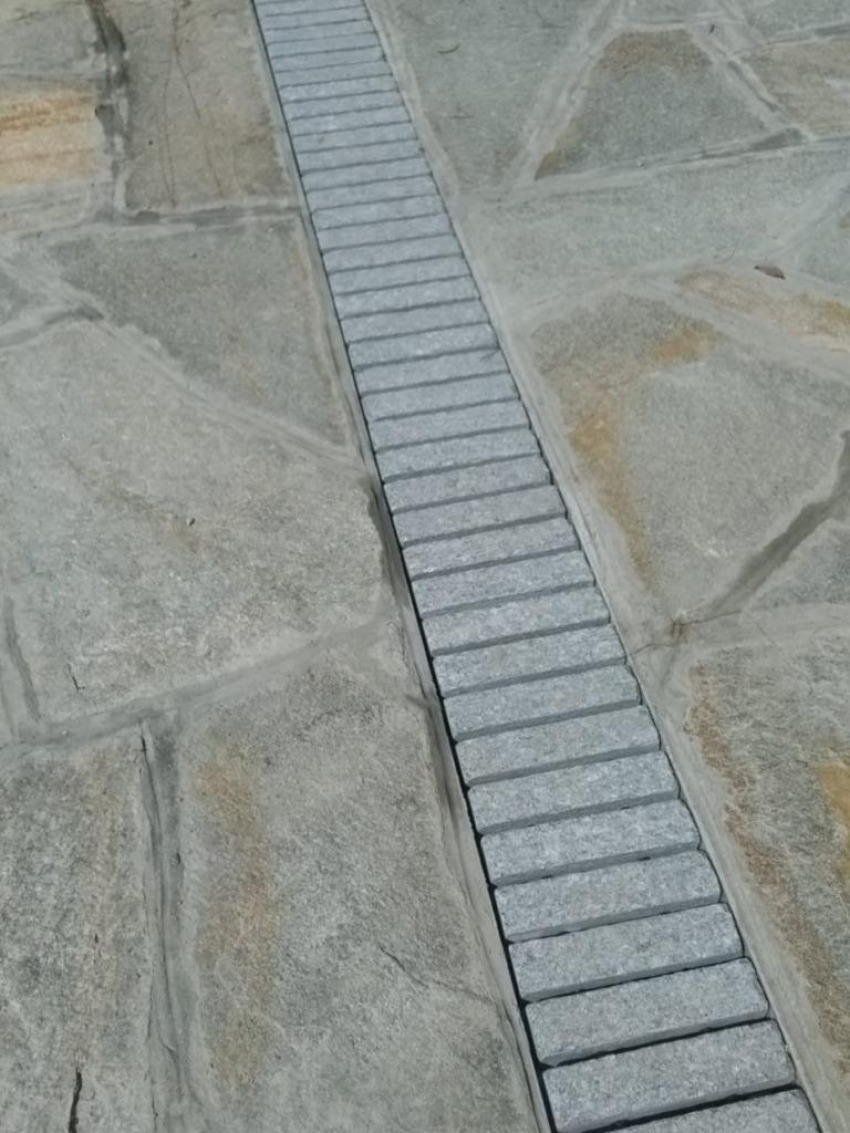 A CUSTOMIZABLE AND ADAPTABLE SYSTEM
......to create personalised solutions
Suitable for different contexts
On manhole covers and drainage channels, Sfioro CarGo is customizable in finishings, dimensions and materials.
The support section can be made ad hoc and is adaptable to most of the existing channels.
A special support in stone or steel can be provided as a guide to place the the Sfioro CarGo grate.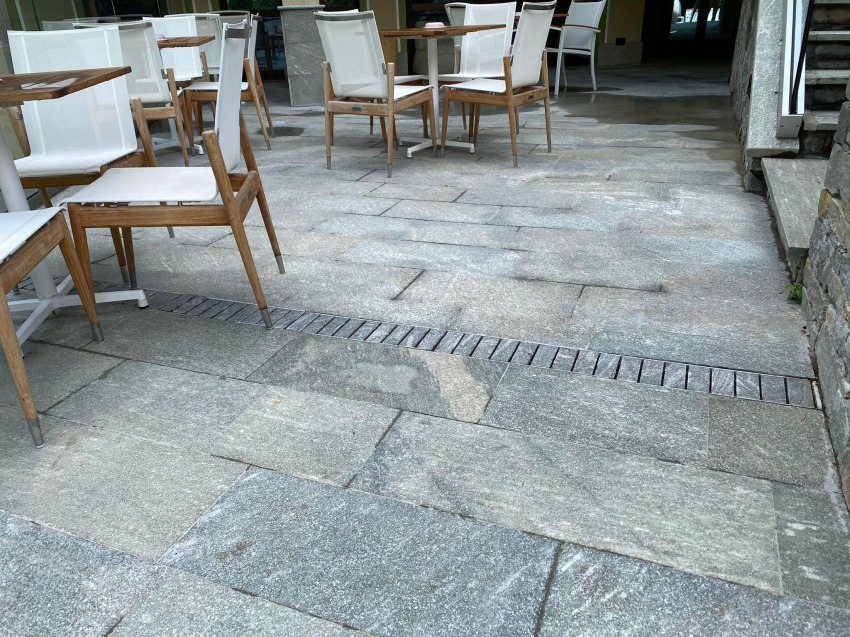 A CERTIFIED AND GUARANTEED PRODUCT
UNI EN 1433: 2008
The grates Sfioro CarGo can be certified according to the UNI EN 1433: 2008 European standard in resistance class B 125 and marked CE. Sfioro CarGo can be used for roadways, pedestrian streets, docks and car parks.
Through certification and CE marking, quality production processes, compliance to reference and safety specifications are guaranteed thanks to periodic monitoring.